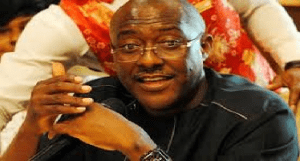 The Spokesman of the Peoples Democratic Party (PDP), Olisa Metuh, has raised concerns over reports that non-indigenes are being prevented from collecting their Permanent Voter Cards in Lagos State and other All Progressives Congress (APC) led states.
Metuh, the National Publicity Secretary to the PDP, who was speaking in Abuja said that the issue was not an issue to be taken with levity and should be addressed as quickly as possible for the success of the general elections.
The party spokesperson said that majority of this group of voters yet to collect their PVC were members of the ruling PDP and they should not be disenfranchised.
"While we restate our commitment to peaceful and credible elections come February 14, 2015, we will not accept any attempt to scheme us out in any state or states controlled by the APC," Metuh said.
The PDP Spokesman had earlier stated that APC "has been jittery over the increasing popularity of President Goodluck Jonathan and the PDP governorship candidate in the state, Jimi Agbaje and now seeks to compromise the electoral process by manipulating the distribution of the PVCs."
Stating that INEC has refused to check the trend despite repeated concerns raised by its state chapter and other well meaning Nigerians, PDP said that the onus "now lies on the Chairman of INEC, Prof. Attahiru Jega and the leadership of the commission to prove their innocence by immediately intervening and ensuring that all eligible voters in the state received their PVCs accordingly."
In its reaction, the INEC Spokesperson, Kayode Idowu, dismissed the allegation raised by Olisa Metuh as unfounded.