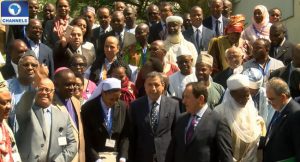 The African Union Interfaith Dialogue on Thursday asked religious leaders to avoid making utterances that could incite members of one religious group against another in the region.
The forum also advised inter-religious bodies within the African region to urgently implement decisions that were reached in previous conferences aimed at reducing religious conflicts in Africa.
According to the religious leaders at the second African Union Interfaith Dialogue in Abuja, religious leaders play critical role in either preventing or spreading religious conflicts.
Leaders of various religious bodies in Africa converged on Nigeria's capital to discuss how they could reduce conflicts and promote inter-religious peace in the region.
First, the head of the Civil Society Division for the African Union Dialogue Centre, Ambassador Jalel Chelba, said that the primary objective of the conference was to oversee the establishment of a permanent steering committee which will link policy makers with religious leaders.
In his remarks, the representative of the Catholic Archbishop of Abuja, Reverend Agatha Ogochukwu, explained the role of religious leaders in conflict resolution.
He said: "there is no doubt that religious leaders of Africa have a lot to contribute to the efforts of the African Union to build peace, resolve conflict, and promote the general well-being of our people.
"All hands must be on deck to rid our world of conflict and wars especially when they claim some religious motivation and excuse".
Meanwhile, the representative of the Sultan of Sokoto, Mr Sani Lugga, advised religious leaders to be careful with their utterances, so as not to promote religious conflicts.
"There has been a lot of deliberation, a lot of talking but a little of the implementation. Therefore, we finally call particularly on religious leaders to guard their utterances, guide their flocks to the right path," Mr Lugga stressed.
It is hoped that the resolutions from the forum would proffer solutions to inter-religious conflicts that has engulfed some member states in recent times.