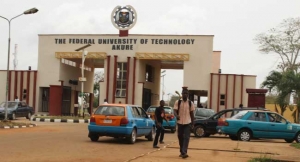 Labour unions in the Federal University of Technology, Akure, in Ondo State have commended the  Federal Governnment for suspending the Vice-Chancellor of the university, Professor Adebiyi Daramola, who is currently facing corruption charges at the state High Court sitting in Akure, the State capital.
Joined with the VC on the corruption charges is the university's Bursar, Emmanuel Oresegun.
The Federal Government had suspended Daramola, and his counterpart at the Federal University of Agriculture, Abeokuta, Professor Olusola Oyewole, on Thursday.
The government said in a statement by the Acting Permanent Secretary, Federal Ministry of Education, Dr Hussaini Adamu, they were suspended in connection with their ongoing trial by the Economic and Financial Crimes Commission.
Members of three labour unions in the university – Senior Staff Association of Nigerian Universities (SSANU), the Non-Academic Staff Union of Universities (NASU) as well as the National Association of Academic Technologists (NAAT) – expressed their delight over the development on Friday.
Upon receiving the news that the Minister of Education, Mallam Adamu Adamu, had suspended the VC, the workers trooped out in their numbers on the university campus singing, drumming and dancing.
The Chairman of SSANU in FUTA, who doubles as the chairman of Joint Action Committee(JAC), Dele Durojaye, told journalists that their protests have been justified as the federal government has acceded to their demand to remove the VC, pending the time the outcome of the case.
Durojaye said the suspension was long overdue as they had expected the federal government to have since invoked the public service rules to suspend the VC.
Also speaking, a member of the university's NAAT, Jimoh Oloro, stated that the court is in the best position to determine whether the VC is guilty or not.
He added that the unions have achieved their aim to remove the VC from office, insisting that following his suspension, he will not come back as VC of the university.
Following series of protests, starting from October 2016, the unions sent a petition to the EFCC.
The anti-graft agency intervened and arrested the VC and the Bursar, interrogated them and arraigned them.
The VC was arraigned on nine counts, including fraud, obtaining money under false pretences, abuse of office and felony, while the Bursar was on arraigned on two counts of corruption. Both of them, however, pleaded not guilty of the offences. The case is still continuing at the court.
Since both men were arraigned, the labour unions have called for the removal of the VC from office based on the corruption allegations against him.
The court had earlier in the week ordered the staff of the university who have been on strike for the past seven months to resume work within 24 hours.
It also ordered the management of the university to pay the workers all outstanding salaries and reinstate those whose appointments have been terminated forthwith.