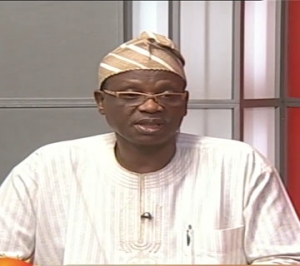 A member of the All Progressives Congress, Funsho Ologunde, says Ekiti State Governor, Ayo Fayose, has only exposed his own ignorance and inadequacy by criticizing the former Governor of the state in his inauguration speech.
Speaking on Channels TV, Ologunde said that the allegation that the state accounts had been emptied by Fayemi were uncalled for as it would be foolish of a leader to keep monies sitting in state accounts when the state was in dire need of development.
He said that Fayose with his speech at the inauguration, has told Ekiti people that they should be prepared for more of such reckless statements during his tenure, adding that supporters of the former governor were not embarrassed by these statements.
On whether the APC could have provoked the kind of inaugural speech delivered by Ayo Fayose, owing to recent crisis in the state and the decision of the party to challenge an election it appeared to have initially embraced, Ologunde said that there was no way the APC could be held responsible for Governor Fayose's utterances.
Former Governor Fayemi had initially conceded defeat to Ayo Fayose in the Governorship election only for there to be court cases challenging his victory and this act, Mr Ologunde was determined to defend.
Mr Ologunde explained that although Fayemi had his rights as a Nigerian citizen to the decision he made, he noted that the former Governor did not consult with the party before embracing Fayose.
He noted that Nigerians need to understand that candidates do not go into elections on their own as the All Progressives Congress, APC, was the organisation that contested the election for the governor, according to the Nigerian constitution.
He said that the power to protect the rights of its members and candidates have been given to the party and that it took seriously on the Ekiti matter, irrespective of Fayemi's concession of defeat.
While he admitted that Fayemi acted in a commendable manner, he said that the party had seen enough reasons to challenge the election as it discovered loopholes INEC's execution that showed that Fayose did not win the Ekiti governorship election.
The APC member also noted that Fayose's reversal of some of the decisions made by Fayemi, especially the creation of new Local Governments, was unfortunate as this was based on the Ekiti people's demands which Fayemi had promised to accede to.
He added that as Ayo Fayose continues his tenure as Governor, the Ekiti people would be the judge at the end of the day.