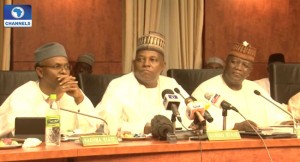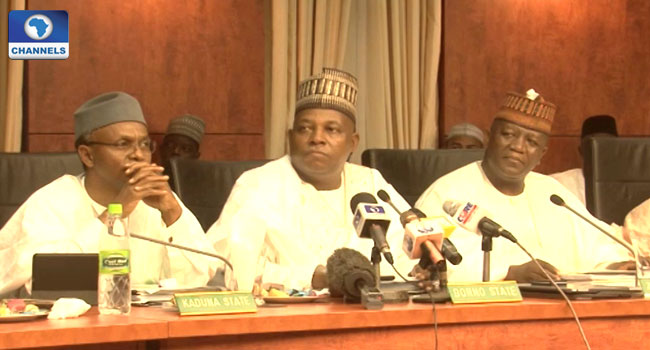 Governors of Nigeria's 19 northern States are meeting with traditional rulers from the region to discuss problems of insecurity and other socio-economic challenges confronting.
The two-day meeting is to deliberate and find lasting solutions to the myriad of socio-economic and political problems besetting the region and which have direct bearing on the well-being and welfare of their people.
Declaring the meeting open, the Governor of Borno State and Chairman of the Northern Governors Forum, Kashim Shettima, said the meeting with traditional rulers had become crucial because of the fundamental debate bordering on the educational backwardness, pervasive poverty and underdevelopment as well as persistent insecurity of northern Nigeria.
Lack Of Education
He expressed regrets that the north, despite being blessed with promising geographical space, huge solid minerals and rich in GDP, the region had remained poor and reduced to the laughing stock of the world.
While he identified poverty, illiteracy and severed limited economic opportunities as some of the underlying causes of insurgency, rural armed banditry, cattle rustling, ethnic and religious conflicts in the region, Governor Shettima expressed optimism that the meeting would come out with practicable recommendations that would help the respective states to solve their peculiar problems.
One major issue the governors identified as a factor militating against development of the region was lack of education for the girl child and the need for all leaders to join hands to ensure that education is given much attention in the region.
The host governor, Mr Nasir El-Rufai of Kaduna State, also briefed the meeting about the security challenges in the southern part of the state and sought the collaboration and support of his colleagues and traditional rulers to address the problem.
The Sultan of Sokoto and Chairman of Traditional Rulers Council, Alhaji Abubakar Saad, expressed worries with the rate of violence in Southern Kaduna and other parts of the north, which he alleged were fuelled by religious leaders.
At the meeting were governors of Borno, Jigawa, Kaduna, Kano, Kebbi, Katsina, Niger, Taraba, Plateau and Sokoto. Also present were elder statesmen and chairman of Northern Elders Forum, Mr Maitama Sule, Paul Unongo and President of Arewa Youths Consultative Forum, Yerima Shettima.
The President of the Arewa Youth Consultative Forum, Yerima Shettima, also expects the meeting to address the issue of indigene and settler dichotomy which he says has been a major cause of conflict in Southern Kaduna and some other parts of the northern region.
Stakeholders expect that a gathering of some of these key leaders of the North is more than able to provide solutions to their problems.
As the meeting enters into closed door session, they want the governors to march their talk with action at the end of the day.