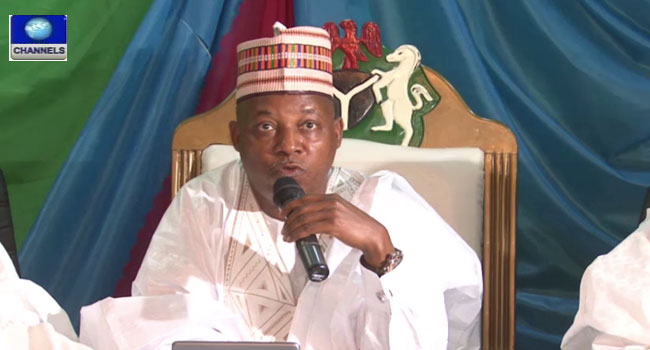 The governors of the 19 northern states in Nigeria on Friday considered practical and integrated regional approach to combat the Boko Haram insurgency and other challenges facing the region.
At a meeting in Kaduna the governors resolved to deal decisively with the problems to ensure the development of the region that had faced over five years of terror attacks.
The meeting held behind closed doors at the General Hassan Usman Katsina State House. It had in attendance governors of Kaduna, Jigawa, Kano, Borno, Zamfara, Benue, Taraba, Nasarawa, Bauchi and deputy governors of Kogi and Kwara among others.
Good Governance
Addressing reporters before the closed door meeting started, the Chairman of the Forum and Governor of Borno State, Mr Kassim Shettima, expressed the urgent need for the northern leaders to adopt far-reaching strategies in tackling the menace of poverty, illiteracy, Boko Haram insurgency and other criminal elements in the region.
He urged the governors to come up with a common agenda for the speedy transformation of the north and the country in general.
While lamenting the failure of the present crop of leaders to sustain the legacies of the founding fathers of the northern region, Governor Shettima said the leaders must act fast to reverse the negative fortunes of the people of the region.
According to him, "no amount of lamentation will solve the devastation in the region", except for the leaders to rise up and live up to the expectations of the people through good governance.
Some other governors at the meeting gave an assurance of their commitment to ensuring an end to insurgency and pledged to redevelop the region that has been devastated by acts of terrorism.
Apart from the Boko Haram insurgency in the north-east, some other states are battling to contain the activities of cattle rustlers, who have had several clashes with farmers.
This is the first meeting since Governor Shettima was elected to chair the forum.
Beyond the assurances made by the governors, what is expected now is for them to hit the ground running and bring about the needed change to their respective states.