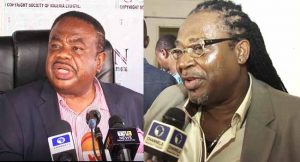 Few weeks after the Musical Copyright Society of Nigeria popularly known as MCSN announced an approval to operate as a copyright management organisation in Nigeria, its fierce rival, the Copyright Society of Nigeria, COSON is challenging the legality of the said approval.
COSON, which has been operating as the sole copyright management ogarnisation in Nigeria since 2010, maintains that operating multiple royalty collecting bodies in a country could lead to chaos.
"Those who know the industry know that the approval of multiple collecting societies is an invitation to chaos, unending disputes, poor royalty collection and poverty in the music industry," COSON Chairman, Tony Okoroji, said at a press conference.
Meanwhile, a delighted MCSN believes this would only create a competitive atmosphere.
MCSN Chairman Orits Wiliki said the belief that multiple copyright societies won't work was "the assumption of people who do not know how it works and those who want to hide under certain umbrellas to say certain things".
He added, "In America you have over six societies, how are they operating? In the UK you have over six; how are they operating? In France you have over 15, how are they operating? In Canada you have over 25; how are they operating?
"So, it's simply what you use that you pay for. If I don't use your work, then you have no right to come to me to ask for any payment."
Wiliki said it was important for people who use musical content to technologically document whatever work they use to ensure they can provide proof of what was used and what wasn't.
Okoroji, however, claimed MCSN had yet to fulfill the Nigerian Communication Commission's application requirement, so an approval from the office of the attorney general of the federation alone meant its operations were illegal.
He said, "Section 39 (3) of the Copyright Act states as follows: The commission shall not approve another society in respect of any class of copyright owners if it is certified that an existing copyright society adequately protects the interest of that class of copyright owners.
"The operative words here are 'shall not'. The question here is that 'who made the determination that the existing collecting society, COSON, does not adequately protect the copyright interests of the class that it represents and when was that determination made?"
Wiliki, however, said, "People misinterpreted the provisions of that section to suit their own hidden agenda. The Copyright Act is very clear in that Section 39 that they are harping on."
He stressed that the Copyright Act never encouraged monopoly or asked the NCC to protect a monopoly.
"Section 39 actually said you may not approve another society for the same class of work if the existing one satisfy everybody. So you can see it's discretionary and not rigid. People choose to interpret it to suit their agenda," he said.
As the copyright controversy which has been on for many years between these two organisations continues, the ricochet effect on the Nigerian artistes is gradually becoming obvious.