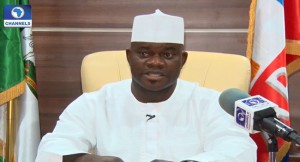 The Kogi State Governor, Yahaya Bello, has vowed to prosecute workers indicted by the Staff Screening Appeal Committee set up by the State Government, to verify genuine and non genuine workers.
Governor Bello who stated this while receiving the final report of the screening exercise from the Chairman of the Committee in Government House Lokoja, said his administration has zero tolerance for corruption.
The 36 man staff complaint appeal committee was saddled with the responsibility to attend to public servant who which to appeal the decision of the screening review and complaint committee was inaugurated by Governor Bello on January 26 2017.
At the banquet hall of the Government House, are top government officials, Heads of Ministries and Parastatals, Labour leaders and their officials, Representative of Security Agency in the state and the committee members.
While appealing to the Governor to temper justice with mercy, the Nigeria Labour Congress (NLC) Chairman said the labour would hold a meeting and come out with their position.
Governor Bello who faulted the workforce said their lack of cooperation is what extended the screening which would have been done within a short time with the staff verification exercise coming to an end.