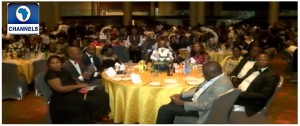 The Lagos Business School Alumni Association held its 20th Annual President's Dinner for the year 2014 at the Eko Hotels and suits in Lagos. 
It was an evening of fun, as members of the association enjoyed themselves and rewarded excellence with family and friends joining them in the celebration.
The President of the Association, Sir Demola Aladekomo, got the event started, with professionals from all walks of life, captains of industries who are products and friends of the prestigious institution in Lagos present.
It was indeed an evening to relax, have fun and also give honour to whom it is due and most importantly real out the achievements of their alumni over the years.
Part of the activity of the president's dinner was the school alumni awards Given in three categories, with the president's award featuring first.
For the Distinguished Alumni Award, the former governor of Anambra State, Mr Peter Obi, topped nominees to grab the award.
It wasn't all talks, as there was full dose entertainment with dance performances to the admiration of all.
That performance was immediately followed by the Ekemini, dance troupe.
The high point of the event was the change of baton in the leadership of the alumni association which has been in existence since 1992 with over 4,750 alumni to support the aims and objectives of the Lagos business school.