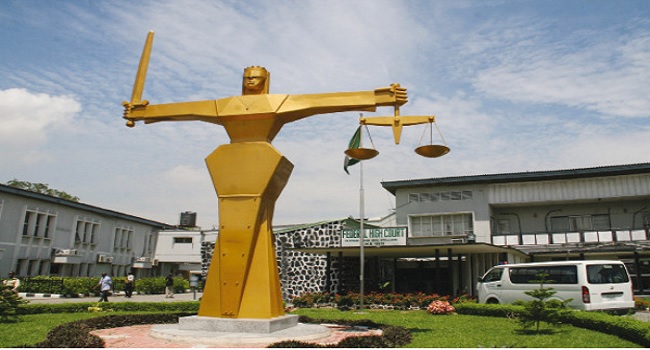 A High Court in Abuja has adjourned the trial of Justice Adeniyi Ademola to February 20 and 21, 2017.
This is following an application for adjournment by one of the defence lawyers, Mr Robert Clarke.
At the resumed hearing of the case of alleged corruption preferred against Justice Ademola who is a serving judge of the Federal High Court, Mr Robert Clarke prayed the indulgence of the court to enable him attend to his health.
The Prosecution team led by Mr Segun Jegede did not oppose the application as he informed the court that a member of his defense team, is currently on admission at an undisclosed hospital.
Presiding Judge, Jude Okeke subsequently adjourned the case for continuation of the trial.
Justice Ademola's Earnings Disclosed 
On February 10, 2017, the Chief Accountant of the Federal High Court, Abuja, Mr Awoyemi Adisa, told an FCT High Court that the annual basic salary of Justice Adeniyi Ademola is about 6.3 million Naira, excluding allowances and other emoluments.
Mr Adisa, who was testifying as the 13th prosecution witness, told the court that Ademola earns a basic monthly salary of 528,638 Naira, alongside other allowances.
According to him, Justice Ademola gets 305,000 Naira for monthly welfare, a 5.4 million Naira furniture allowance paid every four years, and estacode for overseas medical check-up which he said amounted to 6,300 dollars for 2016 alone.
Four more witnesses were also called by the prosecution on Thursday as the trial continued.
Among the witnesses was the Deputy Chief Registrar of the Federal High Court who tendered certified true copies of records of proceedings relevant to the matter.