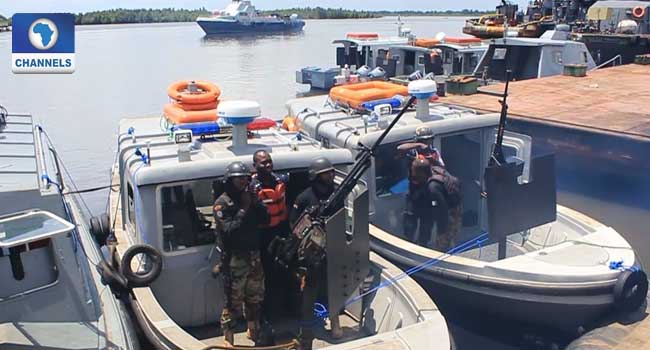 The Nigerian Navy says it has impounded a vessel and two large wooden boats both transporting 240,000 litres of stolen diesel, worth 70 million Naira.
The Commander of the Nigerian Navy Ship (NNS) pathfinder, (Port Harcourt), Commodore William Kayoda, disclosed this to newsmen in Port Harcourt on Wednesday.
Kayoda the confirmed that a total of 12 suspects were arrested on board the vessel and boats.
He said the seizure was part of the ongoing clampdown on perpetrators of oil theft, piracy and pipeline vandalism in the maritime domain in ivers and its environs.
"In continuation of our clampdown on activities of oil thieves, troops of NNS pathfinder impounded one vessel MV Omisan, loaded with 120,000 litres of petroleum product suspected to be illegally refined diesel.
"Additionally, two very large wooden barges known as Cotonou boats were equally impounded while carrying about 120,000 litres of stolen diesel in combined capacity.
"Twelve suspects were arrested on board the vessel and boats and handed over to the economic and financial crimes commission (EFCC) for further investigation and possible prosecution," he said.
The commander also said the Chief of Naval Staff (CNS), Vice Adm. Ibok-Ete Ibas, had given directives to end illegal bunkering within the shortest possible time.
He expressed optimism that the mandate of the CNS and current strategies adopted would drastically reduce incessant attacks on oil and gas installations in the Niger Delta.
According to him, the fight against oil theft and pipeline vandalism was a collective responsibility of all Nigerians to ensure that businesses and commerce thrived in the country.
"The Nigerian Navy is ever committed and would never tolerate criminality on the waterways, and so, criminals must have a rethink and engage themselves in legitimate businesses.
"Those who attack our national assets and carry out illegalities on our maritime environment must stop – as they would soon be caught and prosecuted," he warned.
Kayoda said that troops of NNS pathfinder would continue to carry out 24-hour patrol of the waterways and creeks, while maintaining presence at flash points.
He then urged the public to provide the navy with timely information that would lead to the arrest of criminals and assured them that their identities would be kept confidential.
A Senior Detective of the EFCC, Mr Musa Gidado, who received the suspected oil thieves, said the commission would conduct thorough investigation on the matter.
Furthermore, Gidado added that the suspects would be arraigned if found culpable of the allegations against them.