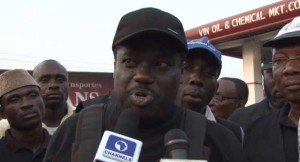 A petroleum marketer has accused a top official of the Edo State Petroleum Monitoring Committee of alleged weekly bribery request to sell fuel above government approved price.
The Managing Director of DVD Oil, Valentine Aisuen, raised the alarm after some of his workers clashed with the Chairman of the monitoring team at his fuel station in Benin City, the Edo State capital.
He alleged that the Chairman of the state's Petroleum Monitoring Committee, Amen Osunde, instructed him to pay 200,000 Naira weekly to enable him sell fuel above pump price.
The oil marketer said that the Chairman had hinted him of his impending visit to alter his displayed price ahead of his arrival.
According to Mr Aisuen "I was not around when Amen called me that he is in my station that he instructed me few minutes ago to change the pump price to 87 Naira, that I should be selling above pump price with calculator but what will be displayed will be 87 Naira".
He said prior to this, he had explained to the official why he could not sell at the government approved price.
"I showed Amen the way I buy my product and the way I sell, I am not a major marketer. He now told me that if I will have to sell above pump price, I will be settling.
"Before now, we have been settling Amen. As far as this station is concerned, we settle Amen every week. I send him (pointing to one of his employees) to go and give Amen money twice in a week."
Two of the workers narrated how they were beaten up by members of the monitoring team. A female worker said her phone was seized.
"I brought out my phone to video what was happening, only for one of the boys to start hitting me and asking for the phone.
"At the process of telling him I cannot give him the phone, he bought out a handsaw and threatened to use it on me. Then I gave him the phone and he left with it," she said.
In his reaction, Mr Osunde denied the allegation, describing it as blackmail.
"Petition and blackmail is part of the job. I have decided to take it in good fate, because people will always talk.
"That does not mean that in a situation like this, there cannot be some elements of truth. But in respect of what he said or what they are saying, they are outright lies," he said.