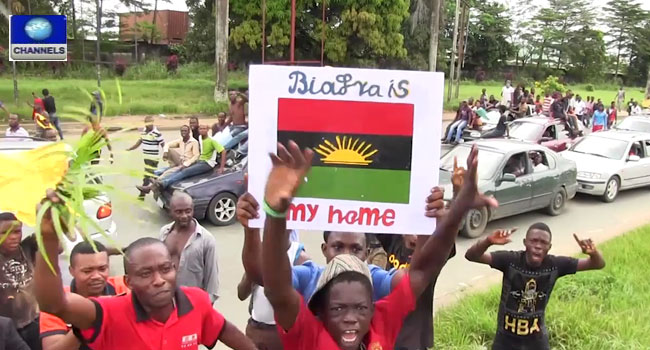 It was total lock down on Tuesday at the Eleme axis of Rivers State as pro-Biafra supporters staged a protest in solidarity with the Biafra Radio host, Nnamdi Kalu, who has been detained by the DSS.
The protesters who stormed the streets in their hundreds were, however, prevented by security agents from proceeding to Port Harcourt, the Rivers State capital.
Although the protesters appeared resolute to continue their march, security operatives managed to maintain the barricade, causing many commuters to resort to trekking long distances as a result of the gridlock caused by the face-off.
Some of the protesters told Channels Television that they would not back down from pursuing the freedom of the one they call their leader.
They called on the federal government to heed their cry and that of other pro-Biafran supporters for self-determination.