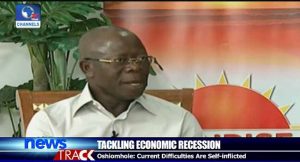 As part of the measures to get out of the current economic recession, Governor of Edo state, Adams Oshiomhole says, Nigerians may have to change their consumption pattern.
Mr Adams Oshiomhole who is of the opinion that the current difficulties the country is facing is self-inflicted, says the only way to address this challenge is the adoption of policies that will enhance local production and reduce pressure on the nation's reserves.
He said this while on Channels Television breakfast programme, Sunrise Daily.
He also expressed that Nigerians cannot expect change within a short time, when there has been a back log of problems long before the current administration.
"There has to be a time lapse between when you formulate policies on the basis of what you found on ground, and when the benefits of those policies begin to manifest, If it takes 60 years to get to this terrible state we are in, why would anybody think that under 15 months of a new government, we will fix it?", he added.
The Governor addressing Nigerians, said we must all identify the issues in the system, as everyone had contributed to the current state of rural poverty.
He said "the nation's consumption pattern has been so distorted by the few who have access to stolen money" such that everywhere you go in the country, we have imported foods.
He reiterates what the government has said that "Nigerians would have to go through a re-orientation, such that we don't learn to perfect the act of consuming what we don't produce, particularly those things that we can actually produce"
Oshiomhole further stated that the whole essence of moving the economy from state involvement, towards private sector involvement is so that the private sector could be structured in such a way that they do not have to import all the things they currently do.
According to him, If we are going to move from being a nation that consumes what it doesn't produce, but is capable of producing, then the government must redirect investors properly to the agriculture sector.