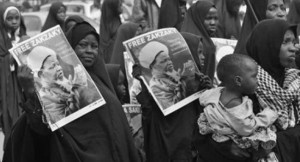 A Nigerian minority Shiite Muslim sect that has been declared an unlawful society by the government of Kaduna State vowed on Saturday to challenge the ban.
The Islamic Movement in Nigeria came to prominence when its members clashed with the Nigerian Army in the northern city of Zaria, Kaduna state, in December 2015.
A judicial inquiry in August concluded that the army killed 348 of the sect's members, a figure that the army has disputed.
The Kaduna State government on Friday said anyone convicted of being a member of the sect could be imprisoned for seven years, fined or both. The size of the fine was not specified.
Diplomats and security analysts say the violence risked spawning a radical Shiite militant wing, just as the Boko Haram uprising began in 2009 after security forces killed hundreds of its members and its leader Mohammed Yusuf died in custody.
The Shiite sect's leader, Sheikh Ibrahim Zakzaky, has been held in custody, without charge, by Nigeria's security agency since his December arrest following the clashes. His supporters have called for his release.
The Kaduna state government said the group had "overtly continued with unlawful processions" and "obstruction of public highways" since the clashes.
"These acts, if allowed to go unchecked will constitute danger to the peace, tranquillity, harmonious coexistence and good governance of Kaduna state," it said, declaring the group unlawful with immediate effect.
A spokesman for the sect, Ibraheem Musa, said its members were not going to be intimidated into resorting to violence.
"Very soon, we shall challenge this ban through legal and peaceful means," he said.