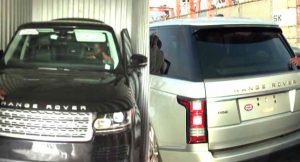 The Nigeria Customs Service has handed over two vehicles suspected to have been stolen and shipped from the United States to the International Police Organisation (INTERPOL).
The Comptroller of Customs, Tincan Island Port Command, Bashar Yusuf, said the sport utility vehicles, Range Rover 2014 and 2015 models, were alleged to have been stolen from Washington D.C but were deceitfully declared.
Mr Yusuf explained that upon getting the identity of the vehicles, the command worked hard to fish out the consignment.
"We received an intelligence information that these vehicles were stolen and were set to be approaching Africa, precisely Nigeria.
"So we put our dragnet wide open so that we will be able to intercept them and luckily, we were able to get the two vehicles," the Customs officer said.
He noted that the interception would portray Nigeria in good light, considering the efforts of the Customs in ensuring that the exhibits were tracked.