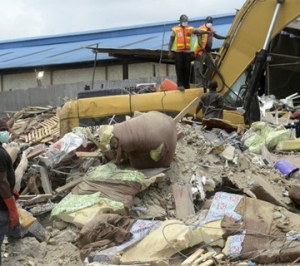 The Federal High Court sitting in Lagos has restrained the Lagos State Government from prosecuting the two engineers who built the collapsed guest house of the Synagogue Church of All Nations.
Justice Ibrahim Buba on Tuesday granted an order of injunction barring the Commissioner of Police from arresting and detaining the two men.
The judge gave the ruling on an application for an injunction pending the appeal filed by the engineers.
In an earlier judgement on Fundamental Rights Enforcement suit filed by the engineers to stop their prosecution by the Government, Justice Buba held that the men "had not made a case for infringement of their fundamental human rights even on the merit of the application".
He dismissed their applications on November 11, 2015 paving the way for their arraignment and trial.
The engineers have, however, approached the court of appeal to challenge this ruling.
Justice Buba, who granted their application to stay the proceedings against them by the Lagos State Government, said his ruling would subsist until the engineers' appeal against his earlier ruling was determined by the Court of Appeal.
He urged the prosecution to ensure that the appeal was heard expeditiously and threatened to vacate the restraining order if the engineers failed to prosecute their appeal promptly.
On Monday the Lagos State government had sought to arraign both men, their engineering company, Hardrock Construction Company, one Jadyn Trust Limited and the registered trustees of the Synagogue Church before a Lagos High Court sitting in Ikeja.
The State government slammed a 111-count charge against them.
Their arraignment was however stalled owing to the absence of both men & their company in court.