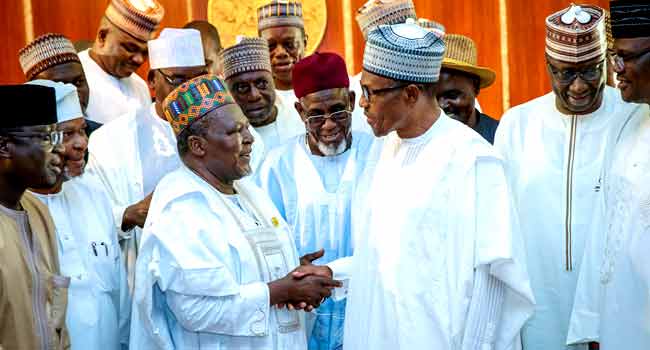 President Muhammadu Buhari on Friday called for increased voter education across the country as Nigeria prepares for the forthcoming general election.
With less than 211 days to the polls, the President believes the awareness would encourage the citizens to appreciate the importance of obtaining their Permanent Voter's Cards (PVC).
The President said this when he received members of the Buhari Support Group Centre who visited him at the Presidential Villa in Abuja.
He thanked the group for its support and sacrifice over the years and pledged to continue to work towards consolidating on the achievements of the All Progressives Congress (APC).
"I thank you very much for the sacrifice you have been making. I am happy to use this opportunity to meet you and thank you for the sacrifices and steadfastness.
"I don't think I can thank you enough because by identifying yourself as a group for all these years and getting nothing for it visibly, I think its worthy of commendation," President Buhari said.
In his remarks, the Coordinator of the BSGC, Umaru Dembo, said "through thick and thin, rain or sunshine, hot or cold, we are here to assure Mr President that since 2014 we have been working, expanding and helping to explain the new life that your government has ushered in for the good people of Nigeria."
Dembo said the BSGC had initiated the documentation of the President's achievements in a book authored by Dr Sani Bichi and himself.
He also assured the President of a bottom-up process of mobilising more supporters for the administration, while appreciating him for reversing the trend of impunity, corruption and lawlessness that existed before 2015.
The BSGC coordinator said the group is an umbrella organisation encompassing Women for Buhari and Osinbajo, A Kasaa Tsare, Northern Youth Assembly, and Buhari Renewal Mandate, among others in support of good governance in the country.