Okagbare into Women's Olympic 100m finals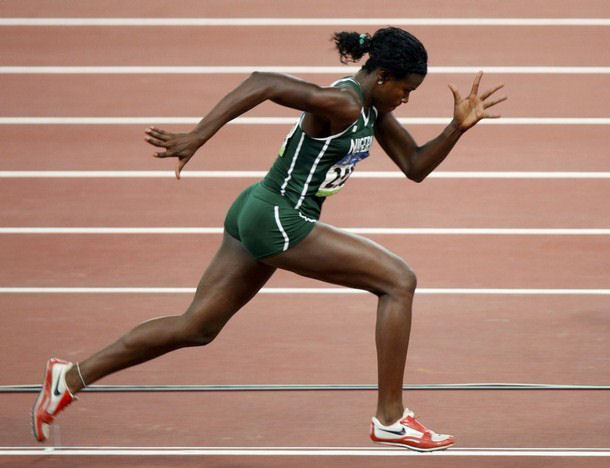 Blessing Okagbare has turned on the heat as she fired herself back into grace and stardom, a stage that was unsure of in first few heats  in the 2012 Olympics but now it's all smiles for her and Nigerians alike as she launched herself into the final of the women's 100m, the medal winning stage.
It wasn't a very sweet story in the heat 3 for the Nigerian as she stumbled off her block in lan5 but in quick realisation of the events that could follow her un-coordinated strategy, she took the challenges as she took the advantage she never had from the start as she flashed past Tianna Madison of the US to hit he finishing line and luckily for her she hit new personal best of 10.92s which also placed her fourth, thanks to determination.
However, the medals hurdle is main event which would be taking place tonight and the Gold, Silver and Bronze medallists will be known by tonight, we good for Blessing Okagbare as she has raised the Nigerian flag high but it was a not so sweet a story for her compatriot Gloria Asunmu a 100m semi-finalist as her personal best 11.21s could only get her at fifth position and in the 400m race, Regina George and Omolara Omotosho both failed to qualify for the final after placing fifth and fourth in their heats.
Okagbare's start out of the blocks has been seen as her hindrance in launching her quick into stable contention and it is hoped that she realises that and if it can nabbed before her final race, then Nigeria may well be registered on the medals table tonight.
The final should be quite explosive with all the usual suspects taking part, with Olympic champion, Shelly-Ann Fraser-Pryce leading the pack.
Okoagabre will be standing head-to-head in the 100m finals with American sprinters, Carmelita Jeter and Allyson Felix; and Veronica Campbell-Brown of Jamaica and as it stands they made better personal bests ahead of the Nigerian on their way to the finals.
Qualification table of the Olympics women's athletics 100m results
The top qualifiers were Carmelita Jeter of the United States, Jamaica's Shelly-AnnFraser-Pryce and Jamaica's Veronica Campbell-Brown.
 Results Table
 Semifinal 3
 1.  Blessing Okagbare (Nigeria)              10.92 seconds Q
 2.  Tianna Madison (U.S.)                    10.92 Q        
 3.  Murielle Ahoure (Ivory Coast)            11.01          
 4.  Kerron Stewart (Jamaica)                 11.04          
 5.  Myriam Soumare (France)                  11.13          
 6.  Verena Sailer (Germany)                  11.25          
 7.  Lina Grincikaite (Lithuania)             11.30          
 8.  Michelle-Lee Ahye (Trinidad and Tobago) 11.32          
 Semifinal 2
 1.  Shelly-Ann Fraser-Pryce (Jamaica)        10.85 Q        
 2.  Allyson Felix (U.S.)                     10.94 Q        
 3.  Kelly-Ann Baptiste (Trinidad and Tobago) 11.00          
 4.  Ezinne Okparaebo (Norway)                11.10          
 5.  Gloria Asumnu (Nigeria)                  11.21          
 6.  Ivet Lalova (Bulgaria)                   11.31          
 7.  Sheniqua Ferguson (Bahamas)              11.32          
 8.  Olga Bludova (Kazakhstan)                11.39          
 Semifinal 1
 1.  Carmelita Jeter (U.S.)                   10.83 Q        
 2.  Veronica Campbell-Brown (Jamaica)        10.89 Q        
 3.  Rosangela Santos (Brazil)                11.17          
 4.  LaVerne Jones-Ferrette (Virgin Islands) 11.22           
 5.  Semoy Hackett (Trinidad and Tobago)      11.26          
 6.  Olesya Povh (Ukraine)                    11.30          
 7.  Ruddy Zang Milama (Gabon)                11.31          
 8.  Abiodun Oyepitan (Britain)               11.36           
 Qualified for Next Round
 1.  Carmelita Jeter (U.S.)                   10.83 seconds
 2.  Shelly-Ann Fraser-Pryce (Jamaica)        10.85        
 3.  Veronica Campbell-Brown (Jamaica)        10.89        
 4.  Blessing Okagbare (Nigeria)              10.92        
 5.  Tianna Madison (U.S.)                    10.92        
 6.  Allyson Felix (U.S.)                     10.94        
 7.  Kelly-Ann Baptiste (Trinidad and Tobago) 11.00        
 8.  Murielle Ahoure (Ivory Coast)            11.01