Reeling from a barrage of public anger, disagreement and threats, the Central Bank of Nigeria (CBN) has buckled under pressure and suspended the planned introduction of the N5000 note following a directive from the presidency.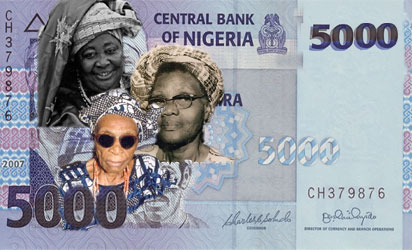 This is coming after the presidency through the Special Adviser to the president on Media and Publicity, Reuben Abati, on Thursday declared that President Goodluck Jonathan has ordered that the planned introduction of N5,000 be put on hold.
The Nigeria Bar Association (NBA) had also on Thursday, called for the immediate sack of the governor of the CBN, Mallam Sanusi Lamido Sanusi over the planned introduction.
Announcing the change in policy, a statement by the director of corporate communications of the apex bank, Mr Ugochukwu Okoroafor however explained that "it is indeed within the powers of the bank to print new currencies as provided in Section 19(1) of the CBN Act 2007."
The statement further explained that "It also provides that such introduction of the Naira denominations shall be approved by the president upon recommendation of the board."
"In line with this provision, the CBN had  proposed and obtained the approval of the President, Dr. Goodluck Jonathan to embark on the currency restructuring exercise, codenamed 'Project Cure' on December 19, 2011"
"The CBN hereby informs the general public that the president, on Thursday, September 20, 2012, directed that further action on the approved restructuring exercise be stopped."
"In full compliance with the provisions of the law, the CBN hereby announces that further action on the said restructuring exercise has been stopped, until such a time Mr. President may direct otherwise" the statement read.
It also emphasized that no contract has been awarded by the CBN in connection with the printing and minting of the new currency notes and coins.
"Consequently, no currency note or coin has been printed or minted under the proposed exercise", the statement added.
And confirming this directive, the president's spokesman Dr. Reuben Abati stated that the decision to suspend the exercise is to enable the central bank to embark on more enlightenment campaigns.