The Economic and Financial Crimes Commission (EFCC) has re-arraigned Francis Atuche and Charles Ojo both former managing directors of Bank PHB Plc and Spring Bank Plc respectively before the Federal High Court in Lagos.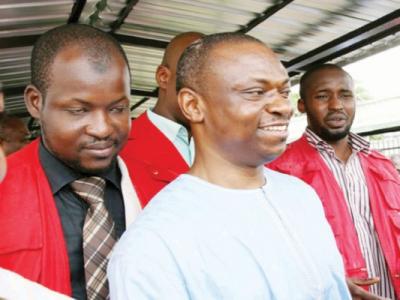 This is the third time in three years.
They were arraigned before the court presided over by Justice Ofili Ajumogobia on a 45 count charge relating to mismanagement and misappropriation of shareholder's funds through reckless grants of credit facilities without adequate security.
The two former bank chiefs however pleaded not guilty to all the counts.
The court then ordered that they should continue to enjoy the bail granted to them by the former court hearing the case, until January 15, 2013 when their new bail application is determined by the court.
The defendants were first docked before Justice Akinjide Ajakaiye by the anti-graft agency on October 28 on a 26-count charge of alleged granting a total of N78.384 billion non-secured credit facilities.
Mr Atuche is also currently facing three separate charges of alleged theft of Bank PHB funds running into several billions of Naira before two judges of the Lagos High Court siting in Ikeja.
At Wednesday's proceedings, effort by the two defence counsel, Shamsuddeen Usman and Olumide Adefila to stop the arraignment was rejected by the court.
Usman had urged the court to stay further proceeding in the matter as his client is currently before the Lagos Division of the Court of Appeal challenging the decision of Justice Ajakaiye (who is now retired) not to dismiss the charge against Atuche.
According to the lawyer, since the appeal has been entered and parties have joined issues, the trial court should not take any step that would render the decision of the upper court useless.
However, Justice Ajumogobia held that she cannot assume jurisdiction on the matter until the accused persons take their plea.
According to her "it is going to be an abomination for an accused not to be arraigned before a court and the court proceed to hear his application, it is only when an accused person is arraigned before a court that the court can then become a trial court".
The judge therefore ordered that the charge be read to the two accused person.
The former bank MD who was also the former Chief Executive officer (CEO) of Bank PHB Plc was further alleged to have granted credit facilities in the total sum of N21.5 billion to the six companies which sum was above his approval limit as laid down by the regulations of Bank PHB Plc.
He was accused to have without prior approval of the CBN acquired share capital of Project Alpha United Kingdom, PHB Capital Trust Limited and Insurance PHB Limited in the total sum of N1. 380 billion thereby committing an offence contrary to Section 21(2) of BOFIA Cap B3, laws of Nigeria 2004.