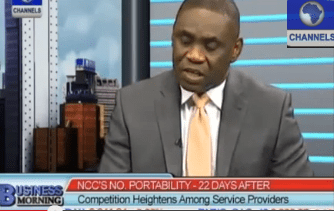 The Director of Public Affairs, Nigerian Communications Commission (NCC), Tony Ojobo on Thursday gave reasons why some GSM subscribers in the country may not be able to port from their current mobile network to a desired one.
One of the major reasons on the list  Mr Ojobo gave while speaking on Channels Television's programme, Business Morning, was debt recorded against a line.
Porting or mobile number portability enables mobile telephone users to retain their mobile telephone numbers when changing from one mobile network operator to another.
Mr Ojobo said that subscribers who have debts to settle will have their porting requests denied. He also said that sim cards that have not been registered will also not be allowed to port.
He said a porting request is expected to be granted within 48 hours under normal circumstances.
The service which the NCC officially commissioned on 22April has been warmly received by Nigerians as Mr Ojobo revealed that about 4,000 people ported within the first 48 hours of the service being launched.