Students of the University of Benin closed some major roads in Benin City, the Edo state capital, protesting the alleged killing of a final year student of the institution, Ibrahim Momodu, by officers of Ogida Police Station.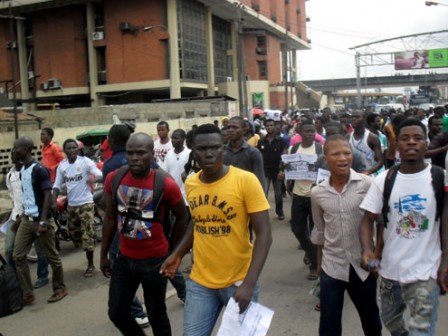 The students dressed in black marched round the streets of Benin City chanting and calling for the arrest and persecution of the DPO of Ogida police station, Mrs Carol Afebgai, for the alleged murder.
The student was allegedly killed on the 27th of May and buried by the police the next day before the family could determine his where about.
The elder sister of the deceased, Rebecca Egbe, while calling for justice stated that her brother's life was cut short by the bullet allegedly fired by the DPO of Ogida police station and buried without the knowledge of his family.
Undeterred and determined to get justice, the students took their protest to the Edo state Government House where the Police Commissioner promised to address them on the facts that led to the student's death.
However by 5pm, the Police Public Relations Officer, Moses Eguavoen told journalists that the late Ibrahim Momodu was an armed robber, adding that a gun, bullets, two mobile phones and a bag was found with the deceased.
Not satisfied with that explanation and quirked by the hurried burial, Ibrahim's mother, has sought justice at the hands of the Edo state governor, Adams Oshiomhole, who promised to set up an inquiry into the incident.
He also commended the students for their mature behaviour while the protest lasted.