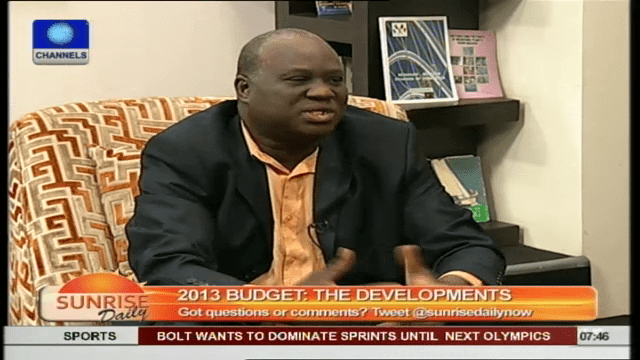 A Financial Analyst, Bandele Olusegun on Thursday faulted the entire budgeting procedure  in Nigeria, referring to it as 'guess work' because the government does not apply analytics when planning the budget.
Speaking on Channels Television's breakfast programme, Sunrise Daily, Mr Olusegun supported the National Assembly in its stance against the executive arm of government regarding the current state of the 2013 National Budget, which is yet to be passed.
"If the 2013 was properly done, there wouldn't have been any need to amendment" he said, adding that "the National Assembly is doing its job."
Mr Olusegun called on the Minister of Finance, Ngozi Okonjo-Iweala, to change the process of budgeting in the country. "A budget drawn up without data is not a budget, it's a guess work".
Nigeria is currently using cash based accounting system which he says allows for lapses in ensuring the completion of budgets.
He alleged that cash based accounting system allows for holes in the country's accounts which in turn affects the budget. He said this is why there is 'so much fraud' in the budgeting process.
He suggested that the country adopts the accrual system which is the trend worldwide.
The budget was submitted in October 2012.