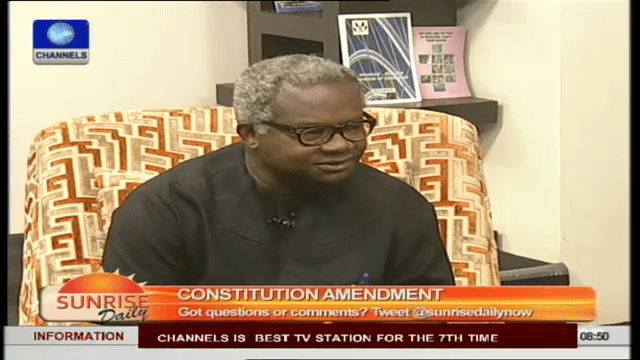 The National Publicity Secretary of the Conference of Nigerian Political Parties, Osita Okechukwu, has said the ongoing constitution amendment by the National Assembly does not reflect the 'yearnings' and 'aspirations' of Nigerians.
Speaking on Channels Television's flagship programme, Mr Okechuchwu faulted the manner in which members of the National Assembly are going about amending the Nigerian constitution, which he described as 'rigid'.
"You cannot just amend the constitution by what the National Assembly says without going to the state House of Assemblies and returning to Mr President," he said.
He added that the members of the National Assembly, from their first effort, have not actually looked into the yearnings and the aspirations of the Nigerian people". This he added, runs against the tenets of democracy which "is about the aspirations of the people".
Commenting on the controversial autonomy for local government councils in Nigeria, he said that no council in the country is fulfilling its mandate.
"The councillors we have today are behaving exactly like the councillors we had under military regimes.
The primary functions of the local government council as stated in section 7 of the 1999 constitution is not being followed.
He also said that there's no local government council in Nigeria that approximates one tenth of the proviso of that same constitution.
He raised the issue of economic planning board which is non-existent in any local government, against the directive of the constitution.
He said that the local governments need autonomy because they are faced with challenges peculiar to their people and environment.
LG council elections
Mr Okechuchwu questioned the way local government council are formed, adding that "there's no political party in Nigeria today that has conducted free and fair local government election."
He also said that the process by which local government councils come into being is questionable and the people are yet to feel the impact of these institutions.
"In the past 10 years, there's no local council that gets less than a N100million every month" but Nigerians are saying they don't feel the impact of these funds.
Watch complete interview for more details.