Issues In PDP, Result Of Democratic Exercise – Pearse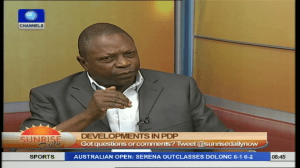 A Political Analyst, Adetokunbo Pearse, on Thursday accused the media and the public of blowing the issues in the Peoples Democratic Party, (PDP), out of proportion as the fall out between high ranking members of the ruling party is but "Exercise in Democratic Development."
"PDP allows for expression of individual opinion, there would be "this type of back and forth" going on in the party, he said.
Speaking on Channels Television's breakfast programme, Sunrise Daily, Mr Pearse said "the concern with the going-on in PDP is overblown," pointing out that "there's a difference between government and political parties."
The PDP, which is regarded as the largest political party in Africa, had been in the news in recent times as a result of internal wranglings among members whose demands and agitations led to court battles, the cross carpeting of five governors, 37 lawmakers and many others.
While commenting on the severity of the crisis, Mr Pearse opined that the issues were not of national importance. "We should not concern ourselves so much with what is going on within the structure of a political party," he said adding that citizens should rather focus "more on governance. What affects us as a people in the different areas of the economy."
The development in the PDP "is an exercise in democratic development," he added.
He also said that: "In the PDP you are allowed to voice your opinion. Nobody is a god in the PDP. Nobody has all the answers. There are no sacred cows in the PDP… We challenge the National Chairman, we challenge the President. That is an exercise in democracy and this is the only democratic party you have in the country."
He went further to say that the activities and political structure of the opposition party, All Progressives Congress, should be probed.
"By the way, what do you make of a party like the APC that has had one national chairman throughout the life of the party," he asked, adding that "no PDP Chairman has stayed in office more than two years."
On whether the embattled National Chairman, Bamanga Tukuru, will resign from his position, Mr Pearse said the decision should be left to him (Tukur).