Fashola Emphasizes Teachers' Competency, Considers Professionalising Teaching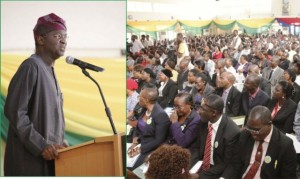 The Lagos State Governor, Mr Babatunde Fashola, on Wednesday attended the One Day Training and Sensitization programme on Teachers Competency Framework, declaring that the State was considering the professionalization of teaching to adequately compensate enterprise.
The Governor who spoke at the Adeyemi Bero Auditorium, Alausa, venue of the programme, added that no teacher should entertain any fear about the intentions of the government as the basic salaries of the teachers would still be applicable to all of them.
"The basic income of teachers would remain but instead of everyone clamouring for the same salary increment, that would be a function of what the person can offer as a professional. Those who improve themselves will always have something to gain", he added.
He added that what would change is that just as it is obtainable in professional football where members of the same football club earn different match allowances based on their rating and qualifications, additional emoluments for teachers would be based on what each teacher can offer.
The Governor explained further that if for example the state decides that for a particular period of time, its emphasis was going to be on science or Information Communication Technology, (ICT), it would provide incentives to teachers with competencies in such fields so that the teachers may continue to always improve themselves.
Governor Fashola stated that classrooms and beautiful schools don't teach the children but only committed teachers do, stressing that the State Government has a responsibility to ensure that even private schools are regulated by the government in order to guarantee the quality of competence that goes on in the schools.
"The chances that you would find an unqualified teacher in a public school is almost zero but the chances exist of meeting somebody who has no knowledge at all of classroom management running a private school", he maintained.
Fashola said that the issue of competence of teachers have become acrimonious but that teachers must be confident to admit that they have shortcomings if indeed they do have, in order to be able to learn, adding that there is no margin for errors in the competence of teachers.
Governor Fashola said that improving the competence of teachers is the next investment which the State government intends to make, just as it is committed to improving water supply to the public schools through its 60 schools water connection project.
He also gave a ray of hope to teachers who have obtained additional qualifications which they have not been able to tender, largely because they never got requisite study approvals before proceeding. He said that the government will also test its competencies in terms of its educational policies to enable teachers to take more knowledge, and for those who have acquired more knowledge not to conceal them.
Earlier, the Tutor- General and Permanent Secretary District 5, Mrs Mary Iji, had given a detailed insight into what the Teachers Framework Exercise was all about, including recommendation on how to make the recruitment process more embracing and all inclusive.
Prominent among those who witnessed the event were the State Commissioner for Education, Mrs Olayinka Oladunjoye, the Special Adviser on Education, Fatai Olukoga, the Permanent Secretary in the Ministry of Education, Mrs Omolara Erogbogbo and Tutors General and Permanent Secretaries as well as teachers from all the education districts.