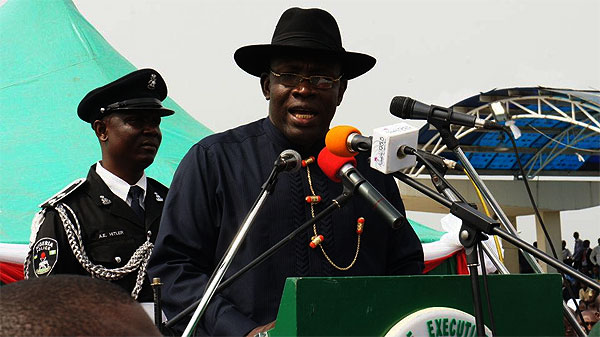 The Governor of Bayelsa State, Seriake Dickson has sacked seven of his commissioners.
In a statement issued by the Chief Press Secretary to the Governor, Mr Daniel Iworiso-Markson, the State Government explained that the sack was due to the ongoing re-organisation of government ministries, departments and agencies, as well as for a more optimal implementation of the Restoration Agenda.
The statement disclosed that the Commissioners had been relieved of their appointments with immediate effect and were directed to hand over to the Permanent Secretaries in their various ministries.
The affected commissioners are:
1. Francis Egele, Esq. – Attorney-General and Commissioner for Justice
2. Hon. Ayakeme Massa -Trade, Investment and Industry
3. Dr. Anapurere Michael Awoli -Health
4. Hon. Nelson Belief -Tourism Development
5. Hon. Gesiye Isowo – Special Duties (Federal Projects)
6. Hon. Parkinson Macmanuel – Science, Technology and Manpower Development
7. Dr. Sylvanus Abila – Environment
The Governor expressed his gratitude to them for their commitment to service and wished them well in all their future endeavours, noting that they could be called upon to serve the State in other capacities in future.
The statement further explained that, the reorganisation of the machinery of Government for improved service delivery in the execution of government programmes and policies as well as the redeployment of relevant officers would be a continuous exercise in the state.