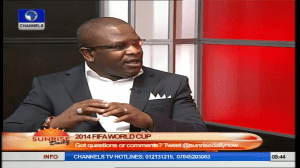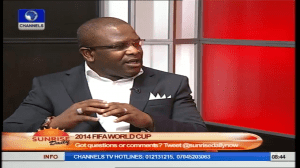 A former Super Eagles goalkeeper, Idah Peterside, on Monday predicted a win for the Keshi-led side in their opening FIFA World Cup game against Iran in Brazil and bury the ghosts of past World Cups by winning their first game at the football showpiece event for the first time since France 1998.
He, however, noted that "if we don't win today, we should come back home tomorrow", wondering how we will cope with Argentina and Bosnia-Herzegovina.
Speaking on Channels Television's Sunrise Daily, Peterside said: "Patriotism apart, we should win because I think we have grown over the years and we are African champions" insisting that we should win, not for Super Eagles per se but for Africa".
He added that it was good to put the players under pressure or else they "won't do well", maintaining that that he has a problem with the team following the performance of the players during the build up to the competition.
He, however, noted that "Keshi has proved us wrong" citing the victorious outing at the African Nations Cup in South Africa. He made a lot of changes and "pundits started analysing his team; but he proved us wrong," he said.
He also queried the overhauling of the players in the Super eagles stating that in a "normal society, you bring in 6 to 7 new players" within a period of four years, but "he has brought in 20 players and that means that it is after the first game that we will begin to assess our team".
With 26 goals scored so far in the competition, the former media officer of the Super Eagles described the tournament so far as "great", adding that top class goals by players like (Lionel) Messi and (Robin) Van Persie are the kind of things that make you happy".
He further talked about the pressure players go through at World Cup and went down memory lane to state Argentina's Diego Maradona's reason for taking cocaine during his playing days as stated by the legend himself. According to him, Maradona had said that he needed something to calm him down.
Peterside insisted that the field has become level and no team should be underestimated. "If we don't win today, we should come back home tomorrow.
"If we don't beat Iran, what are we doing in Brazil", he asked.
Coach Stephen Keshi will be looking to make history as the first Nigerian to captain and coach a Nigerian team to the World Cup finals by nicking a first win in six attempts as the Super Eagles look to lay a marker in Group F of the 2014 FIFA World Cup.
Nigeria is placed in Group F alongside Iran, Bosnia-Herzegovina and Argentina.