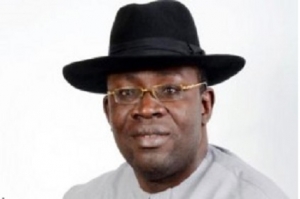 The Bayelsa State Government has signed a Memorandum Of Understanding (MOU) with Julius Berger International to develop the Yenagoa/Azikoro Business Park in the State capital.
The Bayelsa State Governor, Seriake Dickson, signed the Memorandum of Understanding in accordance to the administration's policy of engendering private sector participation in the development of the state.
At a ceremony marking the MOU signing at the company's International Headquarters in Wiesbaden, Germany, on Friday, Governor Dickson noted that the new partnership would serve as a veritable framework to fast-track the infrastructural development of the state.
Expressing satisfaction with the performance level of Julius Berger in the execution of projects, the Bayelsa State Chief Executive stated that the relationship between the company and the State Government had been of immense benefit to both parties.
He added that it has brought about the construction of new roads and the expansion of a number of old roads within the state capital and its environs, including the 12 kilometre Isaac Boro road, the NNPC mega station flyover and the Opolo-Imiringi road among others.
While affirming government's resolve to keep to its side of the MOU, the Governor was of the view that Julius Berger has since grown to be a partner with equal stake in the development of the state and called for a revision of the company's master plan for the development of the state, in line with the present realities on ground.
In his response, the Managing Director of Julius Berger International, Mr George Marks, expressed gratitude to the Governor and his entourage for embarking on the trip to the company's headquarters.
As a bid to re-validate the master plan, Mr Mark expressed the company's gratitude and commitment. He gave assurances that at an agreed time, the company leadership would be on hand to review the master plan and arrange a forum for interaction.