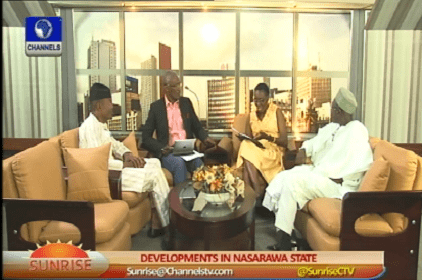 The Special Adviser on Public Affairs to Nasarawa State Governor, Mr Abdulhammid Kwarra, has described the ongoing impeachment saga involving the governor as "a mere allegation".
Speaking on Channel Television's Saturday breakfast programme, Sunrise, Kwarra stated that the rumour of the House of Assembly getting rid of the governor is untrue.
"We do not have a specific issue being mentioned as contentious between the executive and legislature, it is not on record in the State Assembly over any attempt to impeach the Governor.
"The so called allegation over the removal of the Governor does not deter the governor's determination to be constructive in ruling the state, we see it as a distraction and my governor has never yielded to this distraction, he is very focused to accomplish the test of his own mandate," he said.
Speaking alongside, the governor's aide was the Defence Correspondent of Blueprint Newspaper, Jibrin Baba Ndace, who was of the opinion that the issue of stability and good governance should be looked beyond Nassarawa State.
He accused Mr Kwarra of being ignorant of the House of Assembly's threat to impeach the Governor, insisting that it is in all "Social Media".
He further claimed that major newspapers and online blogs published the alleged impeachment plot by the State House of Assembly members.
"It was stated in reports (online and print media) that a meeting was held in Abuja by some members of House of Assembly to impeach the Governor", he said.
He further indicated that the military poses lesser threat to the development of democracy than politicians, who are saddled with the responsibility of developing the state.
"The action and inaction of our politicians is a threat to how our security forces perform their duties, what they say and do not say" he added, insisting that "party politics" also contributes to the major problems in the State.
Last month, Pioneer Chairman of defunct CPC, Mohammed El-Yakub, threatened legal action against the state Governor, Tanko Al-Makura, over the alleged embezzlement of the state's internally generated revenue.