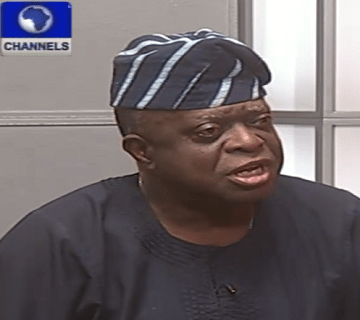 Professor of Political Science, Femi Otubanjo has called for a better democracy as the 2015 general election approaches, to avoid manipulation.
Referring to the ongoing ward congress crisis at the PDP, the political scientist explained the term "ward congress" as a means of providing three delegates who will subsequently elect officers of the National Assembly, House of Assembly and governor.
He stated that it is supposed to be a democratic exercise but lately it has been "manipulated, because democracy in Nigeria has not gotten to a certain level".
Speaking as a guest on Channels Television's breakfast programme, Sunrise Daily, Mr. Otubanjo explained that a governor has an advantage because he controls the local government, the party machineries and can get the officers to get him the names of nominees which he can use for his benefit, noting that "when it comes to ward congress its difficult for governors not to manipulate the system".
"The force of poverty is so prominent in politics that people just concede to anything".
Mr. Otubanjo noted that a governor is not supposed to fund a party but rather the party should be funded by money raised by the members, with the sale of membership cards.
He also noted that there is lack of consultations between the legislator and his constituents.