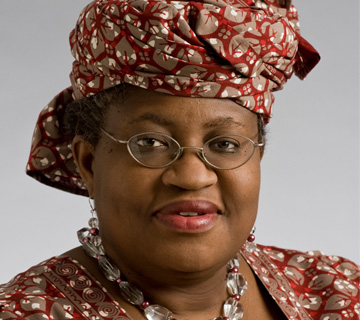 The Minister of Finance and Coordinating Minister of the Economy, Dr. Ngozi Okonjo-Iweala, has appealed to Nigerians to tighten their belts ahead of the stringent economic measures being proposed by the Federal Government.
This new development follows a drop in oil price in the global market.
Addressing a Special Media Briefing in Abuja on Sunday,  Dr Okonjo-Iweala declared that the Federal Ministry of Finance has been keeping a close eye on movements in global oil prices because of the critical importance of oil as the country's most important source of revenue.
As part of the response, the Medium Term Expenditure Framework (MTEF) and the 2015 Budget proposal to the National Assembly have been revised. As a result, the federal government will be proposing a benchmark of $73 dollars per barrel to the National Assembly compared to the earlier proposed benchmark of $78.
Dr. Iweala told journalists in Abuja on Sunday that the austerity measure being proposed are meant to cushion the effect of the oil price drop.
She said government will increase revenue collection targets for the Federal Inland Revenue Service (FIRS) from N75 to N160 billion, place restrictions on international travels in the public service and surcharge on luxury items for high income earners, among others.
"Foreign travel will have to be funded by those inviting civil or public servants and all expenses paid by the inviting body. Same goes for training, local training will be encouraged but expenses for foreign training will be borne by inviting foreign host with permission sought from Head of Service (HoS). Evidence of sponsorship detailing all expenses paid for by inviting body must be tendered before HoS will grant approval.
"I am not sure of what direction to take with taxes but that a key initiative on the revenue side is a surcharge on luxury items details of which are being worked out. Government's efforts from now will be to increase Internally Generated Revenue (IGR) of entities and ensure that they remit these IGRs on time to government coffers. This economy has to stop talking about oil.
"Printing money without adequate revenue support will lead to serious consequences for the country. It will spur spiral inflation as the experiences of Germany in the early part of the last century and more recently, Argentina and Zimbabwe demonstrate. This prescription will victimize the poor and middle class that it is supposedly protecting." she added.
She however noted that the economy "continues to exhibit strength but government will not compensate by borrowing or printing currency but will borrow at very low interest rate and no large domestic borrowing."