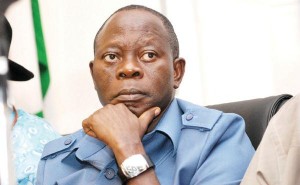 The Governor of Edo State, Adams Oshiomhole has asked the Independent Electoral Commission (INEC) to investigate what he called the importation of mercenaries into the state to partake in the ongoing continuous voter registration exercise.
Governor Oshiomhole said this during a visit to one of the registration centres in  Iyamo, Estako West Local Government Area of Edo state.
Governor Oshiomhole also reiterated the need for residents of the state to go out and register, insisting that "that is the only way they will be eligible to vote for candidates of their choice in next year's elections".
The former NLC President had disagreed with former President Olusegun Obasanjo on the same faith presidential ticket for political parties during an exclusive interview with Channels Television and urged Nigerian politicians to stop using primordial sentiments as cover up.
He kicked against the criticism that greeted a supposed Muslim/Muslim presidential ticket by the All Progressives Congress (APC), insisting that "Nigeria is not defined by religion".
"What is the meaning of Muslim/Muslim Nigeria" he asked, insisting that Nigeria is not defined by religion.
He further noted that we have a lot of 'idle people' who want to use religion as an instrument to evade accountability, insisting that "that has been the problem of Africa.
"When leaders are bereft of ideas, they fall back on primordial sentiments in order to shield the,selves from accountability", maintaining that "the problem of Nigeria is not religion".
Mr Oshiomhole urged Nigerians to start to think of ways to better the country "where every young man can go to school and acquire quality education in a world that is knowledge driven; in a digital world".