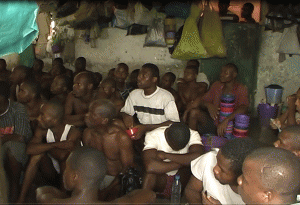 The PRO, Nigeria Prison Service, Ope Fatinikun on Monday revealed that 104 out of the 200 inmates who escaped from the Medium Security Prison in Minna, the Niger State capital, in north-east Nigeria, as well as three mastermind behind the incident have been apprehended.
Gunmen, who invaded the prison Saturday evening, shooting sporadically overpowered the guards at the facility before setting the inmates free.
However, "around 12:30 am today (Monday), three of those who masterminded the jailbreak were arrested", Fatinikun said during a telephone interview on Sunrise Daily.
He also noted that the new Comptroller General of Prisons, Dr Peter Ezenwa Ekpendu, had condemned the Minna jail break and promised to "get the the root" of the matter.
Fatinikun also noted that about 155 inmates were in custody and that investigations into the incident are on-going.
There has been a spate of jail breaks and crisis in recent times as incidents have been recorded in Ekiti and Lagos states.
Giving update on the Ado-Ekiti case, Fatinikun said that 193 inmates were in custody but the search for 200 more inmates was on-going.
Concerning the Lagos prison riot, he noted that a lot of mobile phones had been recovered from in-mates followed a directive by the Minister of Interior, Abba Moro, to the former Comptroller of Prisons, two weeks ago.
He also disclosed that Prison officers who had been found culpable had either been sacked or suspended.
Although he denied claims that there were VIP inmates who were allowed to have phones and generators, Fatinikun was unable to explain exactly how the contraband items made their way into inmates' possession despite the search carried out on visitors to ensure they do not take in items not allowed.
He further argued that the best prisons all over the world also had issues from time to time.