Okorocha Presents N141.2 Billion 2015 Budget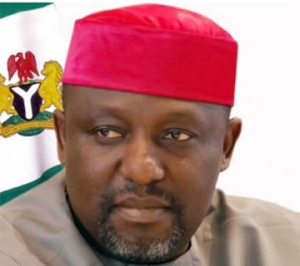 The Imo State Governor, Rochas Okorocha has presented the sum of 141.2 billion naira to the Imo State House of Assembly as the total budget for the 2015 fiscal year.
While presenting the budget tagged "Budget of Total Rescue and Sustainability" to the Imo State House of Assembly, the governor said 43% will be allotted to recurrent expenditure, totaling 60.7 billion naira while 57% will be allotted to capital projects, totaling 80.5 billion naira.
He said the policy thrust of the 2015 budget is derived from the rescue mission agenda of the his administration which anchored on a 4 year development plan that derived its bearing from the vision of his administration which are belief in God, free education, massive infrastructural development and increased agricultural production to ensure food sufficiency and food security.
The governor added that the 2015 budget will mainly focus on delivery of social services to the people of Imo State.
Governor Okorocha said the expected revenue projections for 2015 is 119.7 billion naira for recurrent items and capital receipts of 21.5 billion naira.
The 2015 budget is just less than five percent increase from the 2014 budget which is 137.7 billion naira.