Illegal Immigrants With Questionable Identity Arrested In Nigeria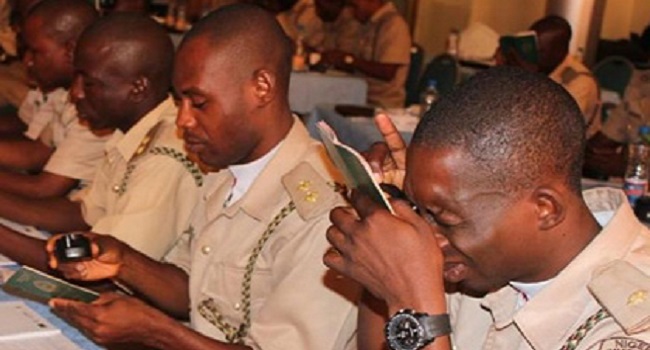 Over 40 illegal immigrants were arrested in Abia State in eastern Nigeria after a thorough search revealed that they had no valid papers.
The arrest was made by the Nigerian Immigration, Abia State Command on Tuesday.
According to the State Comptroller of Immigration in Umuahia, Anthonia Opara, most of the illegal immigrants were from Niger Republic.
Opara said they had entered the country illegally through the borders.
She said that the command had received information about a luxury bus carrying large number of men and it quickly swing into action to ensure that the identity of those passengers were valid by taking them to their head office in Umuahia where a thorough search was made.
More than 40 people were apprehended with illegal papers and invalid ECOWAS passport in the search believed to have been triggered by the current security situation in Nigeria.
A young man, who claimed he was from Kano State, was in possession of two different identity cards.
The immigration official urged the Nigerian Union of Road Transport Workers to verify the authenticity of passengers they intend to carry in their buses and warned that the command was on the red alert to comb the entire Abia State, in order to fish out persons with questionable identification.
She stressed that the job of keeping the State and the entire country safe was the responsibility of all.
The force said the illegal immigrants would be repatriated to their homeland as soon as possible while those with legal papers would be allowed to continue with their business.