Putin: Troops To Surrender As Ukraine Ceasefire Unravels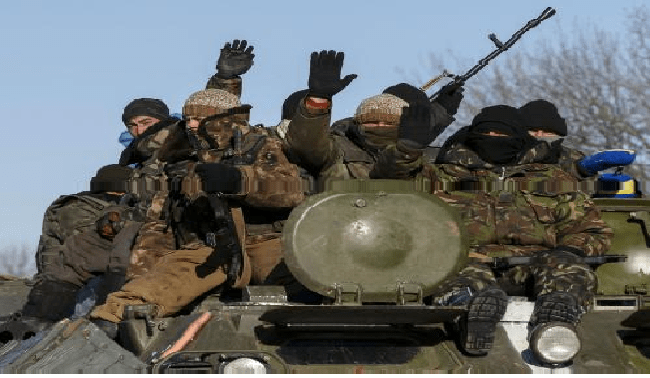 Russian President Vladimir Putin, told Kiev to let its soldiers surrender to pro-Russian rebels, who spurned a ceasefire in eastern Ukraine and fought their way on Tuesday into the town of Debaltseve, encircling thousands of government troops.
A peace deal reached at all-night talks in the Belarussian capital, Minsk, last week had all but unravelled, with both sides failing to begin pulling back heavy guns as required after the rebels refused to halt their advance.
Putin, whom Western countries accused of directing the rebel assault with Russian soldiers and weapons, said Kiev should allow its soldiers to surrender to the advancing rebels.
"I hope that the responsible figures in the Ukrainian leadership will not hinder soldiers in the Ukrainian army from putting down their weapons," Putin said.
"If they aren't capable of taking that decision themselves and giving that order, then I hope that they won't prosecute people who want to save their lives and the lives of others."
He added that he hoped the rebels would allow the Ukrainians to return to their families, once they had surrendered the town.
The US on the other side, had accused Russia of violating the Minsk agreement on Ukraine, as the UN Security Council voted unanimously to approve the ceasefire deal.
Vice-President Joe Biden said "the costs to Russia will rise" if it continued to violate the accord.
Fighting is continuing around the strategic town of Debaltseve, with pro-Russian rebels saying they are in control of most areas.
Although, the Security Council unanimously approved a Russian-drafted resolution to endorse the ceasefire deal agreed in Minsk, last week, angry words were exchanged among ambassadors.
US Ambassador, Samantha Power, said she "wholeheartedly welcomes this agreement" but said that Russia had to prove its commitment to peace.
She said: "Stop arming the separatists. Stop sending hundreds of heavy weapons across the border in addition to your troops. Stop pretending you are not doing what you are doing."
She added: "Russia signs agreements then does everything within its power to undermine them. Russia champions, the sovereignty of nations and then act as if a neighbour's borders do not exist."
Mrs Power said it was "ironic" Russia had drafted the resolution while "backing an all-out assault" in Ukraine.
Russian Ambassador Vitaly Churkin, said "Since the very start of the crisis, Russia has actively called for a peaceful settlement through inclusive, transparent dialogue between all sides in the internal Ukrainian conflict."
After speaking to Ukrainian President Petro Poroshenko, Mr Biden said he "strongly condemned the violation of the ceasefire by separatist forces acting in concert with Russian forces, in and around the town of Debaltseve".