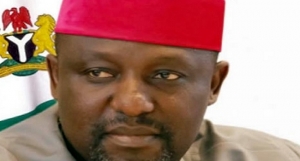 The Imo State Government has completed the construction of the Onungara bridge, linking the people of Owalla Avuvu and Amachara Avuvu communities in Ikeduru Local Government Area (LGA) of the state.
Residents in the communities have expressed their appreciation to the Governor Okorocha led administration for finally completing the bridge.
They said that the newly completed bridge would revitalize the love between both communities and also boast the economic activities in the area.
They noted that the fortunes of the two communities would be augmented especially in agriculture and fishing.
The traditional ruler of the community, however, further appealed to the Imo State government to complete the access roads to the area.
Indigenes of both communities met on the just completed bridge to celebrate this new feat that has kept them apart for over three decades.
The Transition Committee (TC) Chairman, Obinna Nsirim, who was on a visit during the celebration, promised that in no distant time, the bridge would become motor-able.
He appealed to the people to remain patient as the government will in a short time complete the access roads.