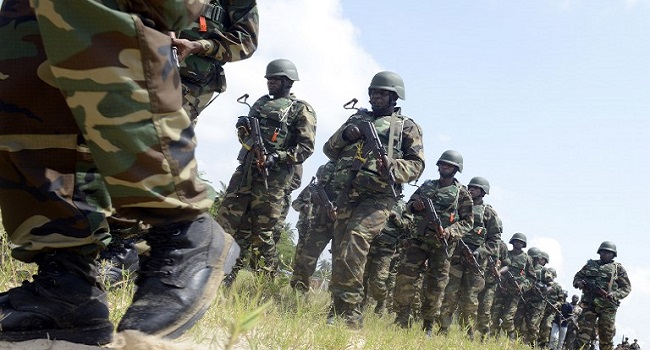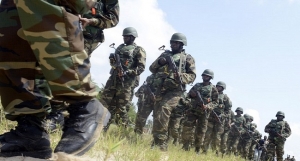 Troops from Chad and Niger on Thursday pursued Boko Haram fighters across a northern Nigeria border area, retaking Gasheger from the terrorist group.
Some of the terrorist that escaped from the town flee into Niger, two senior Niger military officers said.
Troops from Chad, Cameroon and Niger are participating in a joint offensive along with Nigeria aimed at ending the Islamist group's six-year insurgency in north-east Nigeria.
The insurgency had spilled across Nigeria's borders to threaten regional stability.
"Took Back Gasheger"
A column of troops left the Nigerian town of Damasak, which was retaken from the militants earlier this month, in the morning to capture the Boko Haram-occupied village of Gasheger, the sources said.
According to Reuters, a witness across the border in the nearby Nigerien town of Diffa, which has served as a staging area for the operations, heard explosions around midday as the sources said the coalition troops met resistance from the Islamists.
"We took back Gasheger," one of the officers told Reuters.
During the clashes, Boko Haram fighters fired a mortar that landed in the village of Kalgueri, killing one woman, the sources said.
After being driven from Gasheger, some Boko Haram fighters fled across the Komadougou River into the town of Guesseri in Niger where soldiers from Niger's elite American-trained anti-terrorist unit pursued them.
"More than 100 fighters were in Gasheger. They're now in an area with a lot of trees," the second source said.
The regional offensive launched this year comes as Nigeria, Africa's most populous country and biggest economy, prepares to hold elections on Saturday. Nigeria's elections commission postponed the polls to allow the renewed counter-terrorism operation to go forward and make room for Nigerians in the region to participate in the exercise.
The offensive has succeeded in driving Boko Haram from Yobe and Adamawa State.