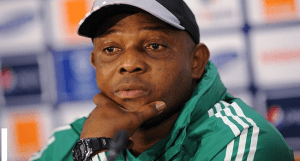 The Nigeria Football Federation has re-engaged Mr Stephen Keshi as the Head Coach of the Super Eagles.
At a contract signing ceremony in Abuja, the Acting President of the federation, Mr Seyi Akinwunmi, said that the federation remains committed to the development of football in Nigeria.
Mr Keshi who tutored the Eagles to a Nations Cup victory in 2013, however appealed to Nigerians to support the national team in order to achieve greater success.
Stephen Keshi had, earlier in the month, appealed to Nigerian football fans to forgive the technical crew and the team for failing to qualify for the 2015 Nations Cup.
Speaking to Channels Television in Abuja, Mr Keshi said that his second coming as the Head Coach of the Super Eagles would witness a total turn around for the team and the development of Nigerian football.
He further appealed to football loving fans to support the Super Eagles at all times, promising an improvement in the performance of the team.
There had been reports that the Nigeria Football Federation (NFF) had agreed a new deal with Stephen Keshi, after a meeting between his representatives and the NFF in March.
Nigerians would be looking forward to the qualifiers for the 2017 African Cup of Nations (AFCON) where Nigeria is pitched in group G along with 7-time African champions, Egypt, Tanzania and Chad.
Stephen Keshi has been managing the Nigerian National Team since 2011.