Rodgers Hails Gerrard's Recovery After Penalty Miss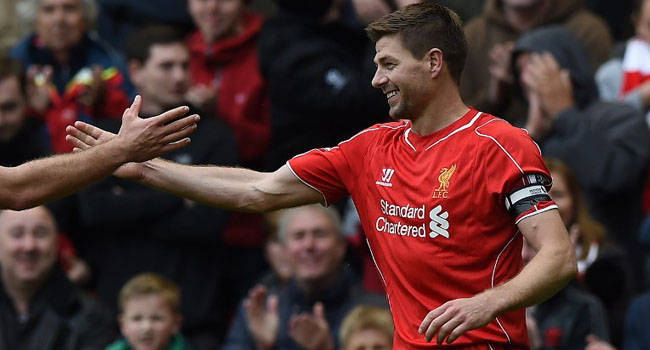 Liverpool Manager, Brendan Rodgers, has hailed the determination and quality of Steven Gerrard after the Liverpool captain recovered from a penalty miss to earn his team a 2-1 win against Queens Park Rangers.
The Reds created a host of chances at Anfield and took a lead during the first half when Rickie Lambert expertly teed up Philippe Coutinho to send a curler beyond Robert Green.
But Leroy Fer levelled for the Londoners on 73 minutes and Gerrard was thwarted from 12 yards by a reflex save from the QPR goalkeeper in front of a stunned Kop.
But those same supporters were on their feet in the final moments as the No.8 leapt to meet Coutinho's corner and glance a header home, securing all three points.
"It's world-class talent," said Rodgers to media after the match.
"There's a very, very small group of players in that bracket, where in the big games they score the big goals and make the big contributions.
"He's done that, everyone has seen that throughout his entire career at Liverpool.
"He missed the penalty and sometimes you think it may go against us, but there is no-one more determined to score and make up for it than Steven. It was a very, very good header.
"He was very determined, especially after the penalty. You sometimes find with a lot of players that when they miss a big penalty like that, normally their game goes and their confidence goes.
"But he's the total opposite. He's one of a unique group of players that whenever they need to respond, they normally do. It was an outstanding header and obviously gets us the win."
Gerrard left the field to a standing ovation in the closing seconds, marking his penultimate Anfield appearance before he bids farewell to the club at the end of the season.
The personal joy he took from the winner was clear, as was the appreciation from every corner of the stadium, with the time to say emotional goodbyes moving ever closer.
Rodgers continued: "His career is probably all flashing before his eyes now.
"It was brilliant to get it at the Kop end as well – it was a really special moment for him. It all goes very quickly, but you can see he is still contributing at this level.
"There was no-one better, especially when he missed the penalty. I knew that if you keep him on, you've got every chance of getting a goal. He always steps up to the plate."
The victory halted a disappointing run for the Reds.
In the two league matches since enduring the heartbreak of defeat at Wembley against Aston Villa, Rodgers' side drew against West Bromwich Albion before losing out against Hull City at the KC Stadium earlier this week.
Rodgers concluded his press conference with a message of support for Rio Ferdinand and his family after the QPR defender confirmed the tragic news of the passing of his wife, Rebecca.
He said: "I'd just like to say one thing on behalf of us all here for Rio Ferdinand and his family. I think football was secondary today, with all due respect.
"This is a guy who has been an incredible player and today, when I was coming to the training ground, I heard the news about his wife.
"So on behalf of us here at Liverpool Football Club – the players, fans and the people of the city – we pass on our condolences and respect to him and his family."
Culled from http://www.liverpoolfc.com