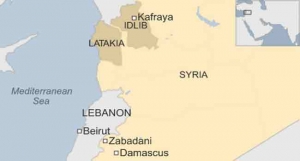 A ceasefire has come into effect in three Syrian towns after rebel groups and pro-government forces agreed to halt fighting for 48 hours.
The ceasefire is being observed in rebel-held Zabadani, near the Lebanese border, and in Fuaa and Kafraya in Idlib Province, under army control.
The deal was reportedly agreed between rebels allied to al-Nusra front and the Lebanon-based Hezbollah group.
Hezbollah is an ally of Syria's President, Bashar al-Assad.
Local ceasefires have occasionally been brokered to allow food and medical aid into besieged areas.