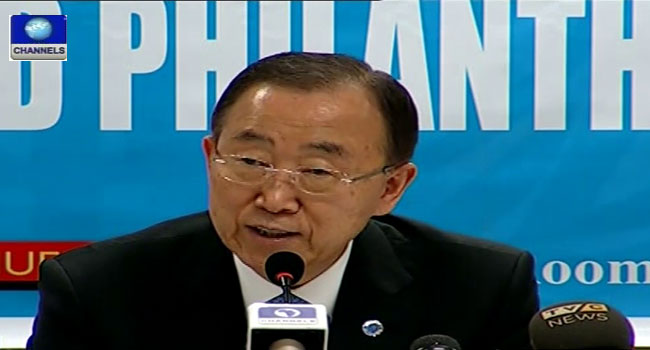 The Secretary General of the United Nations, Ban Ki-moon, on Monday stressed the need for government, private sector and civil society to work together for the actualisation of the 15 years Sustainable Development Goals target.
Mr Ban was speaking in Nigeria's capital, Abuja, in a meeting with business and philanthropy leaders.
He told the gathering that the Sustainable Development Goals had 17 sustainable development course, which was the UN partway for the next 15 years, targeting 2030.
According to him, one more supporting priority was financing for development, which he stressed that no matter how much vision a country or business owner had, it would not succeed without financial and technological support.
'Tripartite partnership'
The UN Secretary General stressed that an action plan tagged 'Adis Abba Action Agenda' had been established, as a financial technological framework to support technological growth.
"It is significantly important in Nigeria with the exemplary transfer of power that the leaders must work to grow the economy and counter the threat of terrorism. They are complex challenges, but not unique to Nigeria only.
"Business community and philanthropy has an important role to grow the economy.
"While the government has the primary responsibility to foster an environment for peace and justice, sustainable development and philanthropy also have a critical one.
"This is an inclusive global partnership, among government, business communities, private sector and civil society," he stated.
Mr Ban further said that without the 'tripartite partnership', "however good a vision or policy is, they cannot be realised".
"No country or institution can solve the challenges on its own. Private sector and civil society power must be harnessed.
"We need to build an inclusive global partnership with a mutual accountability and fair share of responsibilities.
"We must leverage our comparative strength, capacities and resources to achieve a meaningful result".
Passport For Success
He pointed out that a combination of good governance, good policies, an active and inclusive global partnership with the private sector, was a passport for success.
"Whether you are a company, foundation or government, you thrive when society thrives.
"You lose amidst poverty, disease, inequality, conflict, illiteracy, abuse of human rights, poor governance and corruptions.
"There is also an increasing understanding that economic growth and social progress work hand in hand and result in peaceful society," he further stressed.
Leaders of different nations will meet in December in Paris to adopt for the first time, a universal and ambitious Climate Change Agreement.
Mr Ban stressed the need for the government and private sector to put people and the planet in the centre of whatever they do.
He urged the business leaders to discuss and come forward with their challenges and how the UN could assist them achieve needed growth.