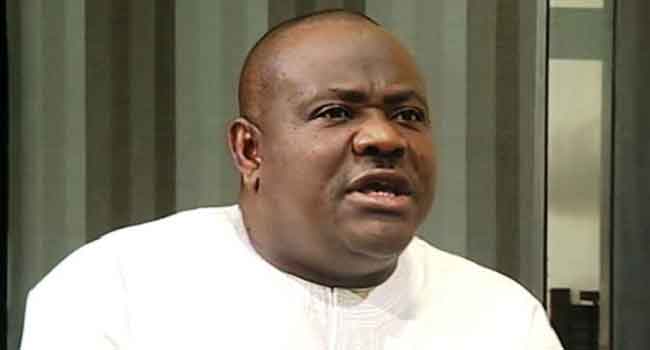 The Rivers State Election Petition Tribunal sitting in Abuja has nullified the election of Nyesom Wike of the Peoples Democratic Party as the Governor of Rivers State, on grounds that his election did not comply with electoral guidelines.
Chairman of the Tribunal, Justice Suleiman Ambrosa, has ordered INEC to conduct fresh elections in the state within 90 days of the ruling.
The petition challenging Mr. Wike's victory was filed by the candidate of the All Progressives Congress, (APC) Mr. Dakuku Peterside.
In the 2hrs. 8mins judgment delivered in Abuja, the Tribunal agreed that the evidence provided by the witnesses called by the respondent and INEC is incredible and unreliable.
The petitioner, had argued that the elections were marred by unauthenticated alterations in forms EC8A, issuance of ballot papers in excess of 100 leaves per booklet, one PDP collation agent signing for several wards, presiding officer signing for party agents, voter signing for party agent and absence of collation at ward collation centers and many more.
Counsel to the petitioners, Chief Akin Olujimi, also argued that the resort to manual accreditation lacked legal justification when INEC had directed that card readers should be exclusively used for accreditation.
The respondents Nyesom Wike, his party, the PDP and INEC who jointly called 40 witnesses, urged the Tribunal to dismiss the petition on the grounds that it was constituted by unfounded allegations which the petitioners failed to establish.
Justice Ambrosa ruled that the panel was satisfied and the petitioners had proved their case and ordered INEC to conduct fresh elections within 90 days of the ruling.
The Lawyer to the Peoples Democratic Party, Chris Uche (SAN) said they will appeal to the Tribunal's judgement immediately.
In a swift reaction, the Rivers State Chapter of the All Progressives Congress (APC)accepted the judgment of the Tribunal.
In a statement signed by the Chairman, Dr. Davies Ibiamu Ikanya, the APC said "We have been vindicated in our persistent claim that the election in Rivers State was false and that the Independent National Electoral Commission (INEC) erred in declaring Wike governor.
The PDP could not beat Dr. Dakuku Peterside, in a free and fair election, we thank the Justice Ambrosa-led Tribunal for restoring hope to the downtrodden people of Rivers State.