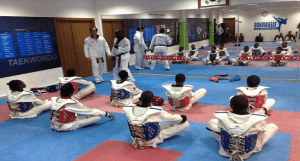 The National Sports Commission (NSC) has promised to support the Chika Chukwumerije Sports Foundation in a four-year strategic partnership geared towards the development and promotion of taekwondo in Nigeria.
The 3rd CCSF International Taekwondo Open witnessed a large turnout of athletes across Africa with the Nigeria Security and Civil Defence Corps (NSCDC) dominating the eight events competed for at the two-day championship.
Speaking at the closing ceremony of the championship which took place at the Sheraton Hotel, Abuja, Director-General of the NSC, Alhassan Yakmut said that with what CCSF has been doing in terms of its programmes, it was clear that the foundation has been able to champion the ideals of the commission.
"I am convinced beyond any doubt that CCSF has done a lot to promote and development taekwondo in Nigeria.
"For us at NSC, we want to partner organization like this because they are doing things that are in line with our vision. The atmosphere at this year's tournament is what obtained globally in terms of international standard and I don't think any reasonable person will not be impressed with what we have seen here tonight.
"Apart from the tournament, they have done workshop and other developmental activities to support the upcoming athletes. With this, NSC will be entering into four-year strategic partnership with CCSF to champion the development and promotion of taekwondo which is an Olympic sport in Nigeria. So from 2016, the collaboration will take off with NSC fully supporting the foundation in all its activities," Alhassan said.
After two days of competitive action, the NSCDC confirmed why it is committed to sports in Nigeria when its athletes dominated the medal table at the 3rd CCSF Open concluded at the weekend.
NSCDC recorded four gold, one silver and four bronze medals to beat Mali and Niger Republic to second and third places on the medal table.
Mali again showed why it remains one of the taekwondo power houses in Africa when inspired by Soumare Karamoko, they won two gold and two bronze medals while Niger Republic won same number of gold with one silver and one bronze medals.
From the 284 athletes that featured in the competition which has the World Taekwondo Federation (WTF)-certified referees handling proceedings, Mali's Karamoko was voted the best male athlete while NSCDC's Chinazum Nwosu won the best female diadem.
Cameroun's sole representative who fought his way into the final in the men's -80kg to clinch silver medal won the fair play award for his sportsmanship during the final match, which he eventually lost to NSCDC's Segun Olushola.