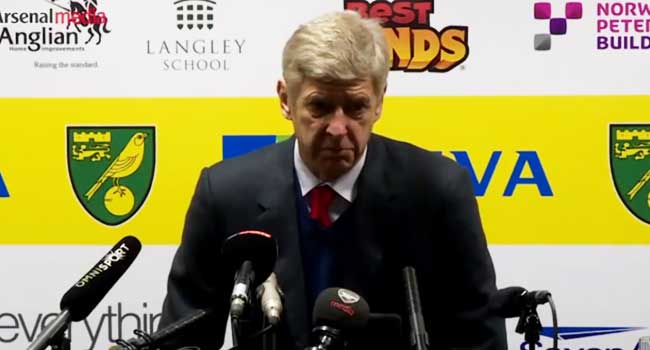 Mesut Ozil had given the Gunners an early lead but Lewis Grabban swept past Petr Cech on the stroke of half-time to hold Arsène Wenger's side to a point at Carrow Road on Sunday.
Arsenal's UEFA Champions League exploits seemed to have taken their toll on their Premier League performance as they sometimes appeared tired.
Laurent Koscielny and Alexis both suffered injuries during a physical encounter, but the players and their manager are confident Arsenal have enough strength in depth to maintain their Premier League title challenge.
Arsene Wenger admitted after the match that it was a difficult game.
"We played against a Norwich side that was at the top level physically and focused. They were well organised and they played every time with 10 players in their own half, and we were not incisive enough.
"Maybe the turning point of the game was maybe we dropped a little bit after scoring straight away and allowed them back into the game. In the second half I felt we had to dig deep to get though as we were a bit jaded and we lost players.
"Cazorla played on one leg and of course we played Kosicelny at the start of the game so it was, I would say, a fair point for Norwich and it was on the injury front a bad afternoon for us."
On moving forward after the disappointment, he said, "We have to go through that spell. We had a bad spell of a few games now with Tottenham, West Brom and today we only have taken two points but we are still not far and going through a bad spell and not being far. It is not enough but at least we had an opportunity to come back."
Ready To Step Up
One of Arsenal's most improved players in recent months, Hector Bellerin, insists Arsenal's players are "ready to step up" after Sunday's 1-1 draw against Norwich City.
"I have said it before, there is great depth in the team," he told Arsenal Player. "There are a lot of young players in the team waiting to come through, and we have a lot of quality training with us every day.
"They are ready to step up so obviously every single player on the bench can do the same job as every single player in the starting 11. We don't need to worry about (the injuries to Alexis and Koscielny). The only thing we need to do is go out onto the pitch with the right mentality, it does not matter who we play.
"The conditions weren't the best but Norwich are a well-organised team who were very solid at the back and dangerous on the counter. We should have played our game better than we did.
"We made some mistakes that cost us the game and we need to look at ourselves and realise that this is not the way. We need to push ourselves a bit more and play better football if we want to be at the top. What happened on the pitch was not a great experience but we need to try and bounce back so we are ready for the next game."
Good To Be Back 
In spite of the disappointing draw, Aaron Ramsey felt good to get more minutes under his belt.
The Wales midfielder had been sidelined since October, but returned as a substitute in the Gunners' convincing midweek win against Dinamo Zagreb.
Sunday was Ramsey's first start since making his comeback from injury, and the 24-year-old was delighted to secure another valuable 72 minutes against Norwich.
"It was good to be back out here and to get some minutes under my belt," he said. "Hopefully I can get a few more games under my belt to get my fitness levels back up.
"It was obviously a bit disappointing to go a goal up and to concede that goal was a bit disappointing from our view, but to be fair they did well and they deserved to get a point out of the game. We just will have to up our game in our next match.
"They didn't make it easy for us. They played a few long balls at times and it was difficult to get he ball down and get our pressing on but they did really well and probably a draw was a fair result.
"Every game is important at the moment, it is so tight so we don't want to drop any points. We don't want to have to play catch up but we will see at the end of the season and we will want to bounce back and get back to winning ways on Saturday."