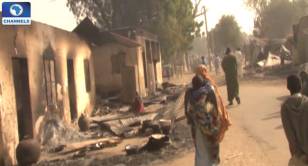 The National Emergency Management Agency (NEMA) has put the death toll in an attack on Dalori, a village in Borno State in Nigeria's volatile northeast region at 85.
At night, they came in through the bush, some of them riding on motorcycles and some in cars, unleashing mayhem on the village.
People ran helter skelter for safety, some crossed the river behind the village, but the terrorists were there to plunder the village, killing people and destroying homes and property.
Those who ran were lured to death by some suicide bombers who pretended to be residents and called them with touch lights, urging them to come to where they called 'safe haven', only to detonate their explosive devices, killing many of them.
The town has been torn apart and thrown into agony.
NOTE: Images below from Dalori attack are very displeasing. Please, view with caution.