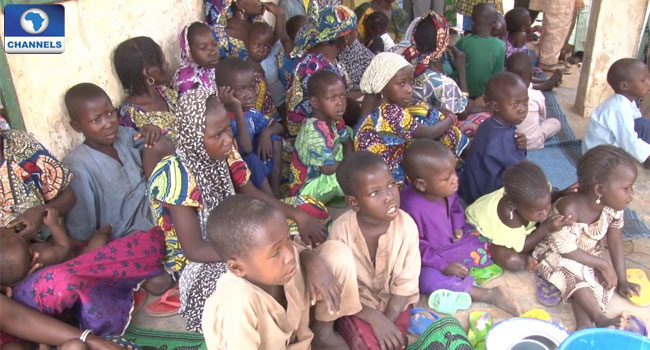 Sixty-seven persons held hostage by suspected Boko Haram militants in Yobe State, northeast Nigeria, have been freed by the Nigerian Army.
The rescued persons were taken to Kukareta village in the state and they are in the custody of the village head.
One of the rescued captives, Aisha that narrated her ordeal, said they were held in the captivity of the suspected sect members for six months.
The village head of Kukareta, Mallam Lawan Babagana, told reporters that the IDPs were now getting humanitarian support from both the state and the State Emergency Management Agency (SEMA) pending the time they would be cleared by the appropriate authorities to return home.
"They brought them in the afternoon between 4:00pm and 5:00pm local time on Thursday.
"They are here with us and we take care of them.
"I have already spoken to the director of the SEMA and they brought food stuffs – rice, mattresses cooking oil and others.
"The local government chairman also brought other food stuffs and some amount of money for them to cook with.
"They are cooking for themselves," he said.
Giving a breakdown of the rescued persons, he said about 44 of them were children, 22 women and one old man.
Mallam Babagana also said that security personnel were also on ground to ensure their safety.