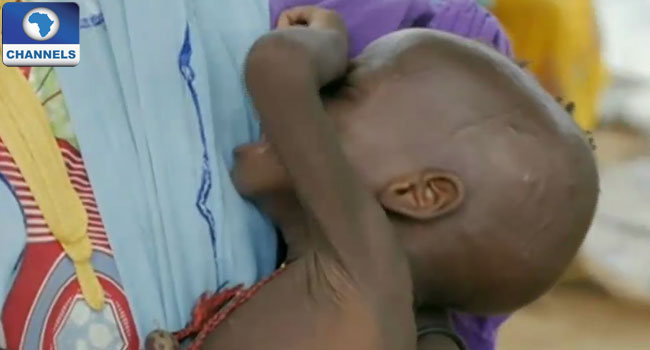 The Nigerian government says it will welcome a global partnership that would ensure a concerted and focused international response to the humanitarian crisis arising from the insurgency in the northeast.
Vice President Yemi Osinbajo, gave the indication on Monday while receiving members of the ONE campaign led by the international Rock Star artist, Bono, and Africa's richest man, Mr Aliko Dangote, who were at the Presidential Villa to discuss the possibilities of a global partnership to address the crisis through international advocacy.
"Deeply Disturbing"
Addressing members of the delegation that included former UK Development Secretary, Douglas Alexander, Professor Osinbajo pointed out that partnership was important in addressing the crisis.
Over two million persons have been displaced in the northeast, a fallout of the over six years of insurgency by a terrorist group, Boko Haram.
"It is very important that you chose to come and offer some partnership. This is great and we are pleased…Partnership is certainly the way to go," the Vice President stressed.
He said no matter how prepared a country could be, handling the kind of crisis in the northeast with over two million displaced people including children, as a single country "would be irresponsible".
"A global partnership to address the situation should be coordinated and more focussed on what is required to be done, for instance, in addressing the issue of malnourished children and not attempting to do too much things at once," he told the gathering.
Earlier, the Irish born artist, Bono, said he had visited some of the IDPs.
"We want to be useful to you," he said, explaining that what he saw in the region was "deeply disturbing".
Bono also commended the social investment programmes of the Buhari administration saying: "We have heard of the incredible plans, the social investment funds," adding also that the level of transparency already seen in the administration is both "very exciting and transforming".
The ONE campaign is an advocacy organisation with more than seven million people around the world taking action to end extreme poverty and preventable diseases especially in Africa.
It has on its board people like Mo Ibrahim, Bill Gates, Michael Bloomberg among others. It was founded in 2004.
Vice President Osinbajo's statement is coming days after the UNICEF raised fears that over 400,000 persons are severely malnourished in Nigeria's northeast.
The UN agency had said that about 49,000 children, pregnant women and nursing mother may die in the next few months if nothing was done.
It has called for nutritious foods and community mobilisers that will go from door to door in the affected region to get the affected children to places they could be treated.
Earlier on Monday, the United Nations expert on Internally Displaced Persons (IDPs), Chaloka Beyani, called on the Nigerian Government and the international community to take urgent humanitarian measures to save lives and ensure the protection of hundreds of thousands of IDPs in the northeast.